Last modified September 08, 2020
Terms of Service
These Terms of Service outline the rules and regulations for the use of Fructus' website/app, located at https://fructus.online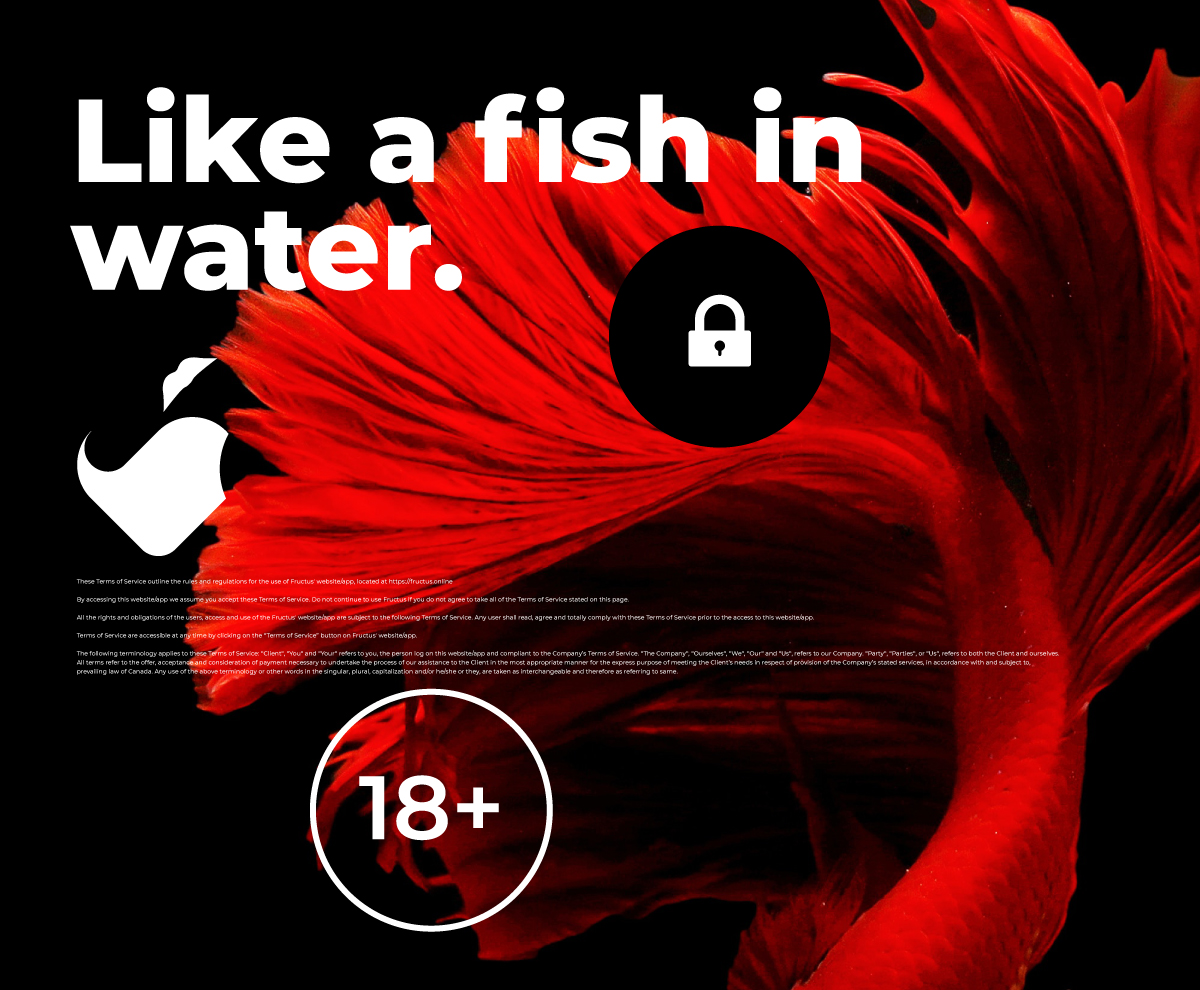 By accessing this website/app we assume you accept these Terms of Service. Do not continue to use Fructus if you do not agree to take all of the Terms of Service stated on this page.
All the rights and obligations of the users, access and use of the Fructus' website/app are subject to the following Terms of Service. Any user shall read, agree and totally comply with these Terms of Service prior to the access to this website/app.
Terms of Service are accessible at any time by clicking on the "Terms of Service" button on Fructus' website/app.
The following terminology applies to these Terms of Service: "Client", "You" and "Your" refers to you, the person log on this website/app and compliant to the Company's Terms of Service. "The Company", "Ourselves", "We", "Our" and "Us", refers to our Company. "Party", "Parties", or "Us", refers to both the Client and ourselves. All terms refer to the offer, acceptance and consideration of payment necessary to undertake the process of our assistance to the Client in the most appropriate manner for the express purpose of meeting the Client's needs in respect of provision of the Company's stated services, in accordance with and subject to, prevailing law of Canada. Any use of the above terminology or other words in the singular, plural, capitalization and/or he/she or they, are taken as interchangeable and therefore as referring to same.
---
Cookies
We employ the use of cookies. By accessing Fructus, you agreed to use cookies in agreement with the Fructus' .
Most interactive websites/apps use cookies to let us retrieve the user's details for each visit. Cookies are used by our website/app to enable the functionality of certain areas to make it easier for people visiting our website/app. Some of our affiliate/advertising partners may also use cookies.
---
Service
Fructus provides a free tête-à-tête video chat and messaging service on the internet for meetings and private discussions including audio-visual aid and text.
We use PayPal as our payment mechanism for premium features such as translation and gifts, which our users can use if they want. We recommend to read the PayPal's Terms of Service and Privacy Policy before using our premium features.
By using our service you understand that your email address is necessary to access your Fructus account. It is your responsibility to make sure your email address is up to date on Fructus.
Any use of this website/app by minors younger than age 18 years is prohibited.
Any user older than age 18 years, who has access to the internet, has the right to use Fructus, as age is the only restriction. Factors such as gender, race or nationality shall not cause any restrictions.
Any charges incurred to access the service, including those related to hardware, software or internet access, shall be paid by the user. The user is the only responsible for any malfunction of his computer equipment and internet access.
By using this website/app, the user agrees to have the right and legal capacity to accept and fully comply with these Terms of Service.
---
Obligations of the user
When using Fructus service, the user commits himself to comply with legal provisions in force, to respect third party rights and to agree to any provisions under these Terms of Service.
Users have the obligation:
i. To comply with legal provisions in force and respect third party rights, the rights of other users in particular.
i. Not to use Fructus for soliciting or prostitution purposes.
i. Not to publish or distribute information and contents (texts, images, photographs) in infringement of intellectual property rights and third party right to privacy.
i. Not to publish or encourage to publish, in any way, shape or form, any contents which violate other people's rights or, in a non-exhaustive list, are libellous, abusive, obscene, offensive, violent or inciting to violence, political, racist or xenophobic, pornographic, relating to paedophilia and, in general, any contents which are in contrast to the object of Fructus, to the law and regulations in force and to good morals.
i. Not to harass, libel, abuse, stalk or threaten any user of Fructus.
i. Not to publish or distribute, in any way, shape or form, any information or contents capable to weaken, disrupt or prevent the normal use of the website/app, to impede and/or slow down the regular traffic of messages between the users through the website/app, such as software, worms, logic bombs, mass sending messages, proxy attacks, Trojan horses, DoS, etc.
i. Not to endanger underage users by any mean.
i. To only use their ID and passwords for the identification procedure required to access the services. In a non-exhaustive list, users shall not announce, publish, share, provide, by any mean, a third party with his own ID and passwords.
i. In general, to use the service in compliance with these Terms of Service.
The failure to fulfil any of the obligations as defined under these Terms of Service constitute a serious breach of this agreement by the user. Where an user fails to fulfil any of these obligations, Fructus has the option to prevent him to wholly or partly access the services of Fructus, temporarily or permanently, without any obligation to pay compensations, in any form or transfer remaining gifts which your account accumulated.
---
License and Intellectual property
Unless otherwise stated, Fructus and/or its licensors own the intellectual property rights for all material on Fructus. All intellectual property rights are reserved. You may access this from Fructus for your own personal use subjected to restrictions set in these Terms of Service.
Trade names, corporate logos, images, photographs, animations and texts displayed on this website/app, data, pictures or other contents displayed on Fructus are proprietary to Fructus. They may only be copied, used or depicted with express authorization of Fructus. Users cannot modify, copy, download, pass on, use for commercial purposes and/or distribute by any mean the services, website pages, or the source codes underlying the content of the website.
You must not:
i. Republish material from Fructus.
i. Sell, rent or sub-license material from Fructus.
i. Reproduce, duplicate or copy material from Fructus.
i. Redistribute content from Fructus.
Parts of this website/app offer an opportunity for users to post and exchange opinions and information in certain areas of the website/app. Fructus does not filter, edit, publish or review Messages prior to their presence on the website/app. Messages do not reflect the views and opinions of Fructus, its agents and/or affiliates. Messages reflect the views and opinions of the person who post their views and opinions. To the extent permitted by applicable laws, Fructus shall not be liable for the Messages or for any liability, damages or expenses caused and/or suffered as a result of any use of and/or posting of and/or appearance of the Messages on this website.
---
iFrames
Without prior approval and written permission, you may not create frames around our web/app pages that alter in any way the visual presentation or appearance of our website/app.
---
Your Privacy
Please read Privacy Policy.
---
Reservation of Rights
We reserve the right to request that you remove all links or any particular link to our website/app. You approve to immediately remove all links to our website/app upon request. We also reserve the right to amend these Terms of Service and it's linking policy at any time. By continuously linking to our website/app, you agree to be bound to and follow these linking Terms of Service.
---
Removal of links from our website/app
If you find any link on our website that is offensive for any reason, you are free to contact and inform us any moment. We will consider requests to remove links but we are not obligated to or so or to respond to you directly.
---
Supported browsers
Chrome, Firefox, Safari and Edge v80+ (desktop and mobile versions).
---
Disclaimer
To the maximum extent permitted by applicable law, we exclude all representations, warranties and conditions relating to our website/app and the use of this website/app. Nothing in this disclaimer will:
i. Limit or exclude our or your liability for death or personal injury.
i. Limit or exclude our or your liability for fraud or fraudulent misrepresentation.
i. Limit any of our or your liabilities in any way that is not permitted under applicable law, or
i. exclude any of our or your liabilities that may not be excluded under applicable law.
The limitations and prohibitions of liability set in this Section and elsewhere in this disclaimer: (a) are subject to the preceding paragraph; and (b) govern all liabilities arising under the disclaimer, including liabilities arising in contract, in tort and for breach of statutory duty.
As long as the website/app and the information and services on the website/app are provided free of charge, we will not be liable for any loss or damage of any nature.
---
Provision of service
Fructus does not grant a provision of service without any outage or malfunction. Service may be temporarily interrupted where maintenance, updating or technical improvement to service content and/or presentation are needed. As far as possible,Fructus will give users a notice prior to any maintenance or updating operation.
---
Applicable law
These Terms of Service shall be governed and interpreted by the laws of Canada. In case of dispute regarding the meaning of a single term or provision herein, this agreement shall be interpreted according to Canada language rules.